It was a great honour and privilege of having world renowned Dr. Phil Nuytten offer to redesign and paint our logo back in 2003. Kapilano Wellness Centre is located on the 8th floor in the 100 Park Royal Building, formerly known as the Kapilano 100 building. Kapilano Wellness Centre has beautiful panoramic ocean views of downtown Vancouver, Stanley Park and the North Shore mountains. We wanted our logo to reflect the beautiful Pacific West Coast.

Each of the red poles of the cross represents mental, spiritual, emotional and physical aspects of the human being. The green circle represents the world and the vermilion green is the healing colour used in Native artwork. There are two hands encompassing or embracing this circle.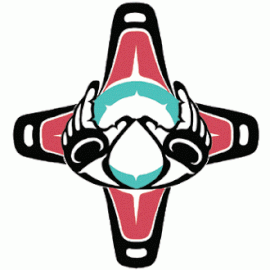 "Healing hands around the world helping mental, spiritual, emotional and physical aspects of the human being"
If we turn the logo upside down, we can see a bird-like face with two angry eyes and and open beak.

"When pain reveals its face"


Artist Dr. Phil Nuytten
Dr. Phil Nuytten is not only an artist, but is widely regarded as one of the pioneers of the modern commercial diving industry and was awarded the Order of British Columbia, the province's highest honour in recognition of his role in making British Columbia one of the world centres of underwater technology. Dr. Phil Nuytten has appeared on the cover of National Geographic and has published numerous articles on his work in Reader's Digest, Business Week, Newsweek, Time, Popular Science, Discovery, Fortune and Scientific America, as well as countless diving and aerospace technical journals. All his numerous international honours, awards, titles and publications are far too long to list here but you can click on this link to read more on Dr. Phil Nuytten's accolades!